This environmental design sequence is an imagining of the original "Hollywood Land" sign in Hollywood, CA 1932. Using Blender and After Effects for the CG, it was created for the short film, "Hollywood Girl: The Peg Entwistle Story," directed by James Pomicther and starring Laura Liguori, Michael Rothaar James Pomichter, Juliette Bailey, Will Rothhaar, Maureen Teefy, Daniel Riordan, Samm Hill, Kirk Graves. Winner, Best Dramatic Short at the Oscar Qualifying Hollywood Reel Independent Film Festival Los Angeles.
Blender Modeling of "Hollywood Land"
After researching the environmental layout of the original "Hollywood-Land" sign in the 1930's we began building the mesh modeling within Blender using landscape sculpting tools.
Generating the light-bulb glass structure and inner filaments were especially tricky, and we realized that creating digital instances of the original lightbulb mesh reduced memory usage within the scene. Additional we coverted the rendering algorithm over to "ray-tracing" which resulted in proper light reflections.
Upon careful inspection of the original letter images, it was evident that there were 1000's of small perforations punched into the sheet metal, so the wind would easily flow through the metal sheets without knocking over the giant sign letters. We also added subtractive Boolean sphere to replicate the perforated holes.
Scaling the light bulb to 1000's of instances greatly kept the memory usage of the scene, and the light spill onto the sheet metal was beginning to take shape with sampling increases required.
Additional foliage generators were used to create the environment, and a fog generator was added within After Effects to create an eerie night-time glow of the final "Hollywood Land" sign as it appeared with 1000's of light bulbs in the 1920's-1930's.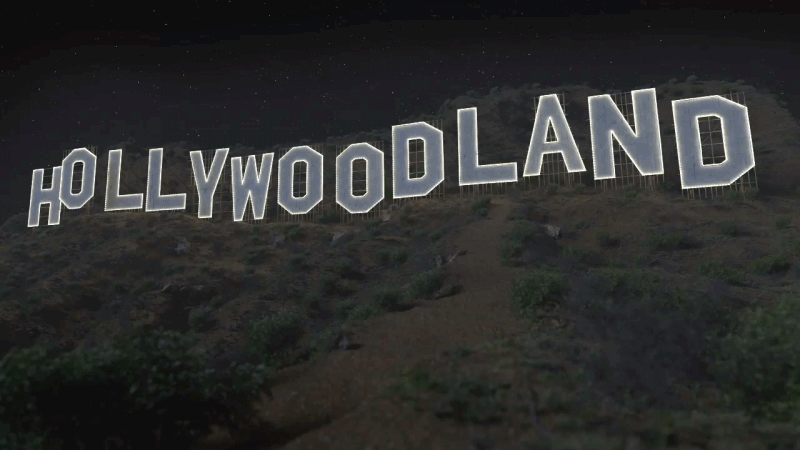 Blender Modeling of Cincinnati Scene
More foliage generator tools were used within this Blender scene of the "Cincinnati House" as occupied by a young Charles and Peg Entwistle. We replicated the rolling hills of Ohio in this scene.
A vertex density layer was painted on the scene to populate the grass field within the scene, and a dynamically animated tree was also added to the scene for scale.
Additional textures were added to the house to give it a rustic feel, and even a 2D truck was added in last moment. Although the era accuracy of the truck may not have been very accurate, it added to the rustic feel of the environment within the Cincinnati Scene.